Tobie Van Dyk, Founder and CEO at Dolphin Worxs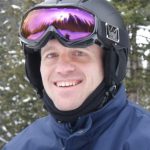 With nearly 20 years experience in writing , selling, supporting and maintaining print MIS software and systems, Tobie is an expert at making the intricate and exceptionally complicated calculations fly by at mach speeds.
His love of speed doesn't just affect the software though, as he is a keen snowboarder, loves riding around racing tracks on his motor-bike, and kite-surfing when the weather is just right on Port Phillip Bay.
Recently moving from long time CTO into the CEO role, Tobie relishes a challenge and quite spontaneous.